Le Cabanis et la Capitelle
Le Cabanis and La Capitelle are two independant 'mazets', each with a private terrace and garden and surrounded by oak trees.
They have been built and decorated with love and care, and are painted in 'natural' colours such as stormy grey, cream and oatmeal for the tiled floors. The age-old wooden doors and the wood used for the rails add to the charm of the 'mazets'. These stand-alone, intimate buildings combine such older materials with the latest technology (flat screen televisions in each bedroom, private Wifi, Bluetooth speakers, DVD players etc.). La Capitelle and Le Cabanis can each accommodate up to 5 people, being 50m² with a private outside space of over 200m², a master bedroom with a large (180 x 200cm) double bed, a children's bedroom with 3 beds, a bathroom and separate toilet.
All put together to guarantee a relaxing, unforgettable stay centred on well-being and being en famille.
Le Cabanis is a small bungalow at the Clos des Coustoulins. Both the children's and the master bedrooms open directly out onto its private terrace and garden. The children's bedroom is a real peace haven in the middle of the oak tree surroundings and is painted in a crisp white, complemented by colourful curtains. The spacious master bedroom with its stormy grey walls and driftwood envelops you in an immediate sense of serenity from the moment you enter. The bathroom is well-decorated too with its patchwork of colourful tiles. A final treat is the vine laden with chasselas grapes, a speciality of the region, found in the private garden.
Local patois term meaning a small cabin.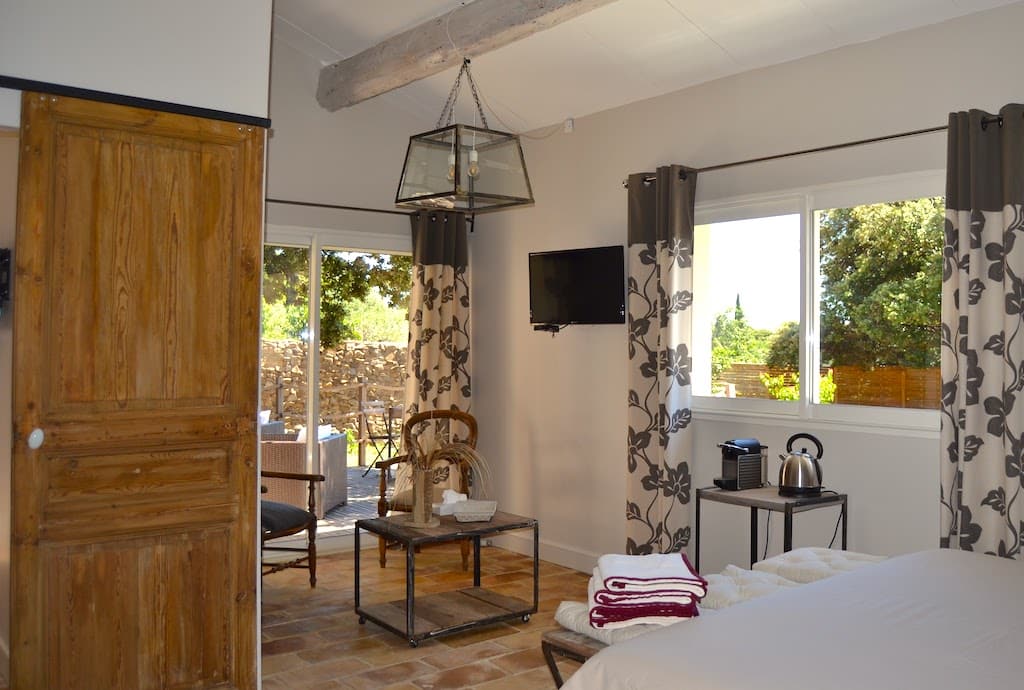 Dry-stone cabin built in the garrigue.
The Capitelle is an enchanting double-story cabin. The master bedroom is downstairs and opens out onto the private terrace and garden. Upstairs, the children's bedroom is decorated in a bright and tasteful shade of coral.
Not only does the downstairs have a paved floor, a colourfully tiled bathroom and an original shower, but it's antique doors are beautiful. Its private terrace and garden look directly out to the oak trees and the path which curves round to the pool.
Comfort & Nature for the whole family
Each bungallow is fully-equipped with those amenities :
TV in each bedroom
Wifi private access
Bluetooth speakers
Netflix
Nespresso™ Capsule Coffee-machine
Fridge
Kettle
Hair-dryer
Air-conditioning
No-smoking