All the comfort of a guest room, all the independence of a charming gîte. Come
and discover the true taste of luxury during your stay at the "Clos des
Coustoulins"…
Inside, as well as outside: :
You have free access to the swimming-pool, the gym, the pétanque court and
the children's play area.
The experience of the hosts and their local knowledge of the
area: :
Fred and Armelle are local children. They like to evaluate for you the best
addresses in the Hérault hinterland, Fred knows the region like the back of his
hand.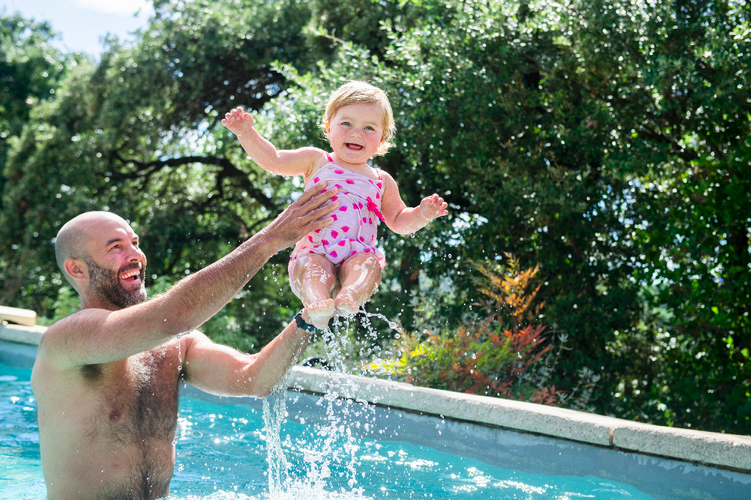 Your week :

You stay in a charming guest house dedicated to one or two families. We offer you high quality included services for a maximum of relaxation and unusual experiences as an option.
To inspire you, we propose an example of your week:
Saturday afternoon:
– Arrival at the gîte. The children discover the playground while the parents
settle in.
– First aperitif on the terrace under our holm oaks.
Sunday:
– Discovery of the region and rest by the pool
Monday:
– Quad biking
– Pizza evening
Tuesday:
– Mountain bike day and picnic by the lake in an unusual place
– Wine tasting evening with a wine maker
Wednesday:
– Massage
– Romantic dinner in a local restaurant while the babysitter looks after your
children.
Thursday:
– Day trip to the Lac du Salagou
Friday:
– Discovery tours of the region
Discovery tours of the region

• The call of the sea:
Etang de Thau, visit of the Bouzigues Museum, Sète, Pézenas.
• The Larzac:
Visit of the Couvertoirade, tasting of an aligot, discovery of the cirque of Navacelles.
• The Hérault valley:
Jonquières, Saint-Saturnin, Montpeyroux, Saint-Jean de Fos, and Saint-Guilhem-le-Désert: visit Saint-Guilhem-Le-Désert after travelling through the wine route, and its picturesque wine villages and finally the visit of the inescapable Grotte de Clamouse.
• Get some height on the Escandorgue plateau:
Visit Lodève, with the Lérab Ling Buddhist centre (you can visit it on Sunday afternoons from 2pm to 5pm), descend to the caves of Labeil for an original family safari. Wine and cheese tasting on the way out.
• The Olive Tree Route:
From Rabieux to the Prieuré de Grandmont where a treasure hunt will help you discover the Prieuré and its park in a playful way.
• City breaks:
Walk and discover Montpellier, its "Place de l'Oeuf," the Fountain of the Three Graces and visit the Galileo Planetarium.